Table 13: Public culture expenditure per capita in 2013 and 2016
Level
Per capita 2013
Per capita 2016
UAH
EUR
UAH
EUR
State budget
41
4
56.5
2.1
Regional budgets
31
2.8
22.2
0.8.
Municipalities
39
3.2
66.5
2.4
Total
111
9.0
146
5.3
Source: State Treasury of Ukraine, 2017, Development Centre "Democracy through Culture", 2017.
The visible increase in public culture expenditure per capita between 2013 and 2016 in nominal values (146 UAH in 2016 vs 111 hryvnia in 2013) shows the depreciation of the national currency when visible growth means almost a two time decrease in real values.
The highest level of increase in nominal expenditures for culture and art was seen in 2017. According to the data of the State Treasury of Ukraine, culture expenditures increased by 52% during January-July 2017, in comparison with this period in 2016. This index exceeded the Consolidated Budget dynamics (25.1 %) as well as other social sphere dynamics – education (41.5%) and health protection (35.9%).
In spite of the real increase in the Consolidated Budget expenditure for culture since 2016, it will be impossible in 2018 to reach even the 2014 culture expenditure level. The same situation occurs in education and health (although education will be closer to the pre-crisis level).
Table 14: Culture expenditure as a share of the GDP, Consolidated and State budget, 2011, 2012, 2013 and 2016
Year
Share (%) of cultural expenditure
GDP
Consolidated budget
State budget
2011
0.55
1.56
0.83
2012
0.57
1.62
0.75
2013
0.53
1.57
0.61
2016
0.34
1.22
0.37
Source: State Treasury of Ukraine, 2012, 2015, 2017, Development Centre "Democracy through Culture", 2017.
The Ukrainian culture sector contributed at least 4.04% to national GDP. It was far less than the agriculture, forestry and fishing sector with 11.65%, but fully comparable with such sectors as mining and quarrying – 5.72%, financial and insurance activities – 5.11%, construction – 2.67%.
Projected expenditure for development (in 2018) will increase by 2.8 times (from UAH 187.6 million to UAH 522.7 million). Firstly, expenditure for development of the Ministry of Culture of Ukraine will reach a record 9,6% of the ministerial budget (compared with 2014 – only 2.17%). The highest expenditure for development will be through the following programmes, according to budget classification:
1801280 "Construction of cultural objects of national significance" – UAH 223 million (increasing by more than UAH 154 million compared with 2017);
1801170 "National activities in culture and arts, safeguarding of cultural heritage, export, import and return of cultural values, national linguistic policy, international relations, religion and protection of national minority rights" – UAH 203 million (increasing by more than 148 million);
1801030 "General and special education provided by art schools (artistic, music, choreographic), comprehensive secondary schools (boarding schools), out-of-school educational organisations; methodological supply of educational establishments" – UAH 48 million (increasing by more than 36 million).
Graph 3: Correlation between consumer expenditure and development expenditure in culture in 2012-2017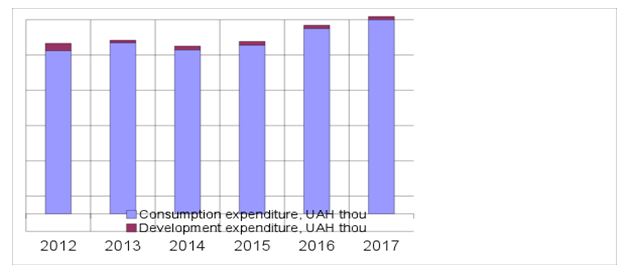 Source: Parliament Committee on Culture and Religions, 2017 (author: V. Babenko)