Amateur arts and folk culture
Of 200 formerly existing handicrafts in Armenia, only 14 are practiced today, increasing to 50 when their subtypes are considered. Groups studying folk art attend separate schools and centres under the jurisdiction of communities ("Hayordyats" houses – centres for intellectual development, and cultural clubs). However, there is no special policy relating to folk art education and there are no funds to support workers in this field either. The Yerevan Museum on Folk Art maintains interactive communication with craftspeople, stimulating continuity of handicrafts and supporting the emergence and development of new forms of amateur arts. The priority task in this field is to ensure a large market and connecting link with the world market.
Aesthetic centres and cultural houses functioning in Armenia contribute to the development of amateur arts. There are hobby groups of singing and dancing, handicrafts, theatre, circus, fine arts, arts and crafts, music, etc. However, most of attendees of those groups are children and youth, except for traditional "women's" crafts like embroidery, carpet-making, knitting, etc. There are some objective reasons for the reduction of adults involved in the amateur arts. Firstly, strong traditions of children's art education in Armenia is rooted back to the Soviet times when a commonly-shared perception of amateur arts existed (especially performances: music, theatre) as children's and youth sphere and part of their cultural education. Secondly, low salaries force people to look for additional sources of income, which means a heavy daily workloads and a lack of leisure time that might be used for amateur arts. There is also no state strategy for the involvement of adults in amateur arts; no municipality actually thinks about it. Unlike the Soviet times, there is no need to control people's leisure, therefore no need to have mechanisms to organise and manage it. A poorly developed tourism industry in the regions also fails to support more active participation of adults in amateur arts. All these issues should be considered when planning in this particular sphere.
However, since 2011 amateur, but de-facto professional folk dance and music groups have made remarkable efforts to popularise Armenian folk dances among the population and tourists. Free public lessons in Armenian Dance are delivered to all interested persons at one of the central squares of Yerevan from time to time. This might be considered as a first step toward the new perception of amateur arts' functional role in the cultural sector.
Many individuals have made crafts an additional, if not main, source of income. The samples of amateur arts and folk crafts are exhibited and sold at fairs and craft shops in Yerevan and in souvenir shops at the tourist sites throughout Armenia, where the works of individual creators are displayed. The "Vernissage", a fair of folk crafts has become one of the prominent touristic and cultural places of Yerevan. Besides, the municipalities of Yerevan and other cities of Armenia try to promote crafts and amateur arts during celebrations of national holidays or local feasts through exhibitions, street concerts, theatrical shows, and festival fairs. The overwhelming majority of participants are children and youth.
According to the Law on Export of Cultural Values, there is no prohibition for export of cultural values created during the past 50 years.
Cultural houses and community cultural clubs
Cultural houses and clubs, inherited from Soviet times, continue their activities, with some restrictions. Cultural houses and centres function mainly under the jurisdiction of communities. Their functions and activities depend on the individual communities and vary from just being a venue for community events to multi-functional cultural centres. Typically, the cultural centres include different hobby groups for music, dance, visual arts, crafts, some sports, chess, children's theatre, poetry etc. In villages, they also host libraries. Most of groups are not free of charge, but the fee is moderate (from 3 000 to 10 000 AMD (USD 7-26 a month). However, not all cultural houses inherited from the Soviet times are in use because of poor conditions or lack of professionals. Unfortunately, there is no statistical data on how many culture houses remain out of use or are using a minimum of their capacity.
Preservation and reconstruction of cultural houses is considered to be a priority task among the cultural organisations of the Marzes, because in the rural communities they have different functions (i.e. library, leisure centres etc), and, in general, they are the main places for organising cultural and public activities. There is an urgent need to reconstruct cultural houses of the frontier villages, because they will contribute to the resolution of some tasks, i.e. opening of new workplaces, reduction of the population flow, and promotion of national-traditional cultural values among the youth.
By order of the Ministry of Urban Development in 2003-2006, repairs to 21 cultural organisations was carried out (14 of them in the Marzes), totalling 1 456 300 000 AMD (3 066 000 EUR). In 2008 the total budget for renovation of cultural institutions was 1 525 569 000 AMD (3 100 750 EUR). In the last two years, the budget for cultural houses and clubs was significantly decreased (by 342 959 in 2010, and 603 972 in 2011), due to the financial crisis and diminished renovation needs.
Under the Social Investments Fund of Armenia, from 2003-2006, 17 cultural organisations in the Marzes were repaired or constructed, totalling 600 675 000 AMD (1 265 000 EUR), and in 2007-2008, it is anticipated to reconstruct and repair 9 cultural organisations, with a total budget of 748 664 100 AMD (1 576 000 EUR).
The existence of cultural houses in the Marzes remains important, because they are a conduit for implementation of cultural policy. On 5 April 2007, by Decree N589, a programme on cultural development in the Marzes was approved, by which it is anticipated not only to establish cultural centres, but also to establish basic centres for art education.
The allocation of cultural houses in the Marzes and by population is shown in the Figure below.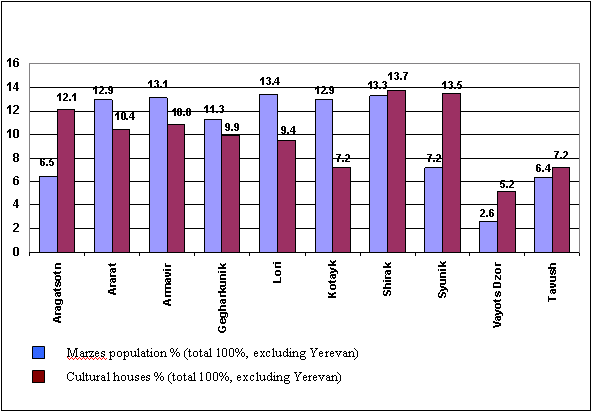 Allocation of cultural houses, % of Marzes and population, 2012

Source: Department of Art and Folk Art of the Ministry of Culture of RA, 2012.
There is no data relating to Yerevan in the above-mentioned table as the cultural houses in Yerevan have been closed or privatised. Some of them were transformed into the "Hayordyats Tner" (cultural centres acting under the protection and control of the Armenian Apostolic Church), and many of them still function as before. Instead, numerous private organisations provide art education services for children and youth and are available to the large layers of the population.
The Centre of Children's Aesthetic Education, which involves visual arts and crafts groups, children's theatre, and a Children's Art Gallery, has been functioning in Yerevan since Soviet times. Currently, it has reduced its space and capacities but still does a good job in the promotion and development of amateur arts among children and adolescents.
As a whole, the attendance at amateur art groups and cultural centres has been increasing since the early 1900s when it had experienced a drastic collapse. The tradition of providing out-of-school art education to children seems to be rising.