Amateur arts and folk culture
Each locality of Ukraine is traditionally rich in authentic folk arts and amateur arts. During the last years, local communities not only preserved the existing amateur arts but also developed new ones including youth and national minority subcultures. Now, along with such traditional types of the amateur arts in Ukraine as brass band music, orchestras of folk instruments, choral singing, choreographic art and dancing, amateur theatre, decorative and applied art, embroidery, etc. one can enjoy modern genres generated by new technologies and social evolution: pop song studios, groups of acoustic music, multimedia art, computer graphic, etc.
In each regional city of Ukraine, there is a regional centre of amateur art and folk culture. A regional centre is an institution providing proper conditions for the development of folk culture and amateur art and leisure activities. It is a creative and methodological centre for houses of culture or clubs in each region. A regional centre supports activities for preserving intangible cultural heritage and cultural diversity.
According to the Ministry of Culture of Ukraine database, there are about 350 amateur theatres and 60 folk and amateur orchestras. To illustrate the multiplicity of amateur groups and artists in Ukraine it is sufficient to examine a separate region or town (see Annex: Dnipropetrovsk oblast review – in Ukrainian). For instance, in the Ternopil oblast (Western Ukraine) with a population of 1.14 million persons (2.3% of the population of Ukraine) of which (57.3%) reside in rural areas, there are about 3 500 amateur groups (incl. 1 558 children's amateur groups) involving more than 50 000 persons (17 905 children). Only in a separate locality, Gusiatyn rayon, which has 65 small towns, villages and settlements with a total population of 68 000 persons, there are 192 amateur groups involving 2 535 persons.
The most popular kinds of folk decorative and applied arts are embroidery, folk painting, fine weaving, studio pottery, puppet making and carving. There are about one hundred popular artists in each region of Ukraine, for example, only Zaporizka oblast, with a population 1.775 million persons has 1650 masters.
Cultural houses and community cultural clubs
The preservation of the network of cultural clubs and centres inherited from Soviet times has been a priority of the Ministry of Culture over the last years. Now, with acceleration of the decentralization process in Ukraine, this responsibility is given to local authorities and local communities.
In the rural communities these clubs and centres remain the main centre of cultural life and the platform for the development of amateur arts. For example, there are 976 clubs in the Poltava region with a population of 1.7 million. These clubs run 5 250 amateur circles, groups and associations, with 63 434 persons attending. In Kirovograd region with a population of 1.05 million, there are 582 clubs, which run 2 809 amateur groups. Lack of financing and the transformation from state run institutions into community property led to a significant decrease in the number of clubs and cultural centres (see Table 29). The main problems of these institutions are maintenance and personnel: only about 5% of all clubs and cultural centres in the rural areas are provided with modern technology, and only 60% of staff are cultural specialists, 6% of whom have higher education. 35.7% of existing cultural clubs (or 6589) require repair or renewal; in some regions (Dnipropetrovsk, Zaporizhia, Odessa, Poltava, Donetsk, Kherson) this number is above 50%. In most regions, many cultural clubs are not heated in winter. With some decrease in 2014, local communities began to renovate or restart activities of cultural club/house establishments in successive years.
Table 29: Number of cultural clubs in Ukraine, in thousands, 2005-2016
| Year | 2005 | 2006 | 2007 | 2008 | 2009 | 2010 | 2011 | 2012 | 2013 | 2014 | 2015 | 2016 |
| --- | --- | --- | --- | --- | --- | --- | --- | --- | --- | --- | --- | --- |
| Clubs | 19.1 | 19.0 | 18.9 | 18.8 | 18.7 | 18.6 | 18.5 | 18.5 | 18.5 | 16,8 | 17,2 | 17,1 |
Source: State Statistics Committee, 2017.
Graph 6: Dynamics of cultural clubs in Ukraine, 2005-2016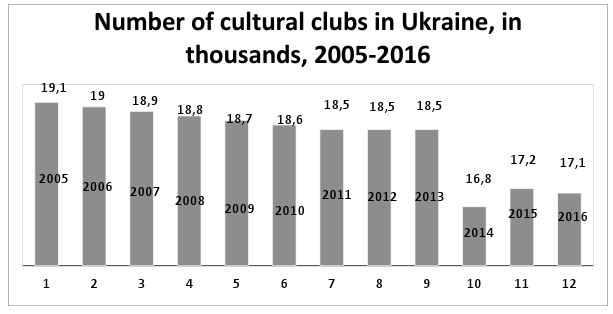 Source: State Statistics Committee, 2017.
New multi-functional cultural institutions were formed during last years in many regions, like cultural centres, folk and craft centres, club-museums, club-libraries, etc.
Table 30: Cultural clubs in Ukraine at the end of 2016
Number of clubs
Capacity seating
Total
Including
Total
including
Urban areas
Rural areas
Urban areas
Rural areas
17 133
1 599
15 534
4 231 005
665 594
3 565 411
Source: Ministry of Culture of Ukraine, 2017.