A number of ministries and public agencies are involved in cultural affairs (including funding and large-scale, especially, international projects' realization). However, it is difficult to identify sustainable and systematic inter-ministerial cooperation in culture or cultural heritage programmes, except for some ad hoc or politically-oriented initiatives. This is why the term "integrated approach" is used now regularly as a desired perspective at different meetings related either to local development projects through cultural heritage (like COMUS – see chapter 1.4.2) or to inter-sectoral initiatives (like cultural startups, see chapter 1.4.1).
According to the Long-term Development Strategy of Ukrainian Culture (Strategy of Reforms, 2016), emphasis will be placed on "the strengthening of the role of culture in the social and economic development of Ukraine through interaction and increasing the responsibility of public agencies and civil society; the highest participation of stakeholders in development and realisation of state cultural policy".
In 2017, cultural issues constituted a part of the programmes of the Ministry of Regional Development, Construction and Municipality (cultural decentralization), the Ministry of Education and Science (pre-school and formal cultural education), the Ministry of Family, Youth and Sport (informal cultural education), the State Committee on TV and Radio Broadcasting of Ukraine, the State Archive Service, the Ministry of Infrastructure of Ukraine and others.
The principal partners of the Ministry of Culture, according to the Budget 2017, are:
Ministry of Regional Development, Construction and Municipality (decentralization);
State Archive Service (documentation);
State Committee on TV and Radio Broadcasting (culture communication);
Ministry of Foreign Affairs (international relations and promotion of Ukrainian culture abroad).
Different national cultural programmes or events are carried out in co-operation with regional, rayon or city authorities. For example, concert programmes in Mariupol were organised in 2015-2016 jointly by the Ministry of Culture, Ministry of Defence, Donetsk oblast administration and city administration.
After 2010, the number of local governments increased to 12 052 which was the largest in Europe apart from France (36 118). By 2015, after the annex of Crimea and armed conflict in the eastern part of Ukraine, the number of local governments decreased to 10 036.
On 1 April 2014, the Government of Ukraine adopted the "Concept of Reforming Local Self-Government and Territorial Power Organisation" (Cabinet of Ministers' Decree #333-p). According to this Concept, it is envisaged to not only delegate authorities and resources to self-governments, like village and city councils, but also to create capable territorial communities able to realize delegated responsibilities".
Picture 1: Decentralization in Ukraine": united territorial communities (as of 01.01.2017)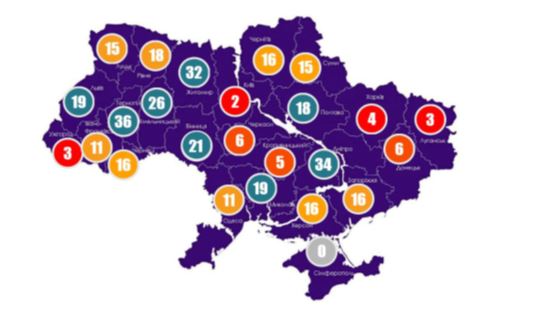 Source: A. Melnychuk, P. Ostapenko. Decentralization of Power: Reform #1. Analytical Notes. Kyiv, 2016 (www.tdukr.com).