There is no complex survey available in the Slovak Republic regarding the cultural consumption of the citizens, based on the continual collection of statistical data in combination with topical sociological surveys focused on cultural consumption and participation.
A survey of cultural consumption and citizens' expenses for culture is being compiled by the Cultural Observatory, which is a part of the National Centre of Public Education and Culture (an organisation under the Ministry of Culture). However, its research activity has been focused mostly on local and regional culture. This orientation is due to the basic activity and tasks of the National Centre of Public Education and Culture (NOC).
The statistical data regarding real and nominal expenses for culture by citizens is not available in the form that would allow an observation of long-term development trends.
The research project of the NOC, entitled Analysis of Local and Regional Culture, shows that the citizens of the Slovak Republic spend most of their expenses for culture on the concessionary fees for public media. In second place, there are expenses for purchasing and borrowing electronic media (VHS, DVD and CD). The monitoring shows continually increasing expenditure on literature. Expenditure on visits to the cinema and theatre remain at the same level. Concert attendance is increasing. Magazines on culture and arts and consumption of cultural heritage represent the smallest portion in the expenditure on culture.
Figure 1: Cultural consumption in Slovakia, 2005-2006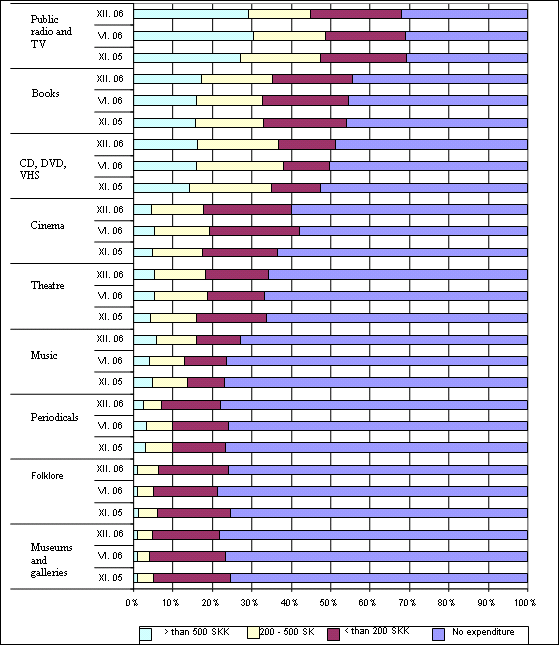 Source: National Centre of Public Education and Culture.
The amount of the expenditure for culture is determined by the net monthly income per person in each household, by the education level and the age of respondents. Expenditure on culture, by citizens that live in cities, is significantly higher than that spent by the citizens of rural areas. Besides that, people between the ages 30 and 65 years are more willing to spend their money on cultural activities.
The monitoring performed by the NOC shows that all categories of citizens consider visiting a cinema, museum, exhibition or folklore event economically most affordable. Almost 50% of the respondents view some of these events financially affordable. The least affordable is buying literature and magazines on culture and the arts.