Amateur arts and folk culture
The Ministry of Culture supported folk culture in the framework of the programme "Cultural Heritage". In 2010 Priority 3 "Folk Culture" was aimed at strengthening regional identity, preservation, documentation and transmission of authentic values of traditional culture as well as supporting diverse forms of promotion of folk culture.
Annually, The Minister of Culture awards the prize in the name of Oskar Kolberg to the achievements in the field of folk culture (see chapter 7.2.3).
Since 1999, the curriculum includes "Regional education – cultural heritage in regions" addressed to students of primary, secondary and high schools. The objective is to indicate the need for conscious participation in culture, to preserve local cultural heritage as well as promotion of tolerance for cultural diversity.
Amateur arts
Amateur arts are supported mainly by culture houses, community clubs and NGOs acting locally. The offer is diverse and dependant on the profile of the institution / organisation. Despite the recent changes and attempts to modify the scope and range of activities, most of the public institutions offering amateur arts courses are perceived as anachronic relics of the previous system. Here the NGOs represent a much more modern and demand-oriented attitude.
Folk Culture
Folklore preservation, including traditional arts is associated mostly with rural areas. In many villages the tradition of regional arts is cultivated and more often operates as a local tourist attraction.
The protection, development and promotion of Polish folk culture are also the main aims of the "Cepelia" Polish Art and Craft Foundation operating since 1984. In particular it supports research in the field of art, handicrafts and ethnography; arranges exhibitions, shows, concerts, lectures, conferences; establishes, maintains and supports the activities of the exhibition centres, art galleries and outlets selling works of art and handicraft products; supports the publishing of books, magazines, brochures, etc.; and promotes Polish culture and art abroad.
Folklore in its many forms (from arts and crafts to music and dance) is slowly gaining the interest of younger generations. It is no longer perceived as boring and unoriginal. Initiatives to popularise and re-new folk culture are becoming more common. Numerous design and music events using traditional folk patterns, instruments, tools etc in a modern way are gaining a wider audience every year.
Folk dance
According to the report on folk dance in Poland (2011) prepared for the 1st Congress of Dance by the Institute of Music and Dance, the biggest organisation in Poland active in the field of folk culture and connected with activity of unprofessional folk groups is the Polish Section of the International Council of Folklore Associations, Festivals and Folk Art (CIOFF – Conseil International des Organisations de Festivals de Folklore et d'Art Traditionnels). Poland was one of the initiators of this organisation in 1970. It aims at protection of folklore and folk art; fostering international cooperation in the field of preservation and popularisation of folklore and folk art as well as the widest possible inclusion of the younger generation in the implementation of these objectives. CIOFF includes 111 folk dance ensembles, 12 cultural centres and many events concerning folk culture. It associates 145 individual members.
There are two professional folk ensembles in Poland: "Mazowsze" Tadeusz Sygietyński State Folk Song and Dance Ensemble and "Śląsk" Song and Dance Ensemble. The former is in a very good financial situation and owns an extremely modern base, which was recently renovated with the assistance of EU Structural Funds. There are also many amateur folklore groups, 30 student groups, including 18 that are associated in the Polish Academic Folklore Association.
So far a specialisation in folk dance does not exist in any Polish college or university. Until the end of the 1980s students at public music schools could learn Polish musical folklore. Nowadays, this subject is present in 8 public music schools (1 hour per week during over 1 year).
Folk music
According to the Report on Polish Music (2011), due to the engagement of local institutions, regional ensembles and ethnographers, traditional music is still present in rural areas. Folk music is increasingly an inspiration for modern musicians who play it in a traditional way or with jazz, rock or even techno arrangements. The festivals of folk music are becoming more and more popular (e.g. Folk Festival of Polish Radio "Nowa Tradycja – New Tradition"). Data on the number of folk musicians are basic – there is no register on a national level. 164 representatives of folklore (musicians, singers, dancers) and 68 folk ensembles and bands are registered around the country. Since 1999 the Folk Artists Association in Lublin has conducted a national database entitled "Village artistic groups" including 2 000 music ensembles, bands and theatre groups.
Cultural houses and community cultural clubs
Prior to 1989, cultural houses in Poland were leading institutions of the communist cultural politics. It was difficult to find their equivalent in democratic European countries. There were even problems with translating the term itself. No law defines cultural houses. The Act on Organising and Conducting Cultural Activity merely states that this is one of the possible forms of organising cultural activity but does not indicate differences or gives a description. However, cultural houses run by state enterprises were dismantled in the free market economy environment because their costs were seen as unjustified. Today, cultural houses and centres are creating a new image for themselves as a shelter for amateur art and various programmes aiming at broadening participation in cultural life, with a special accent put on those parts of the population which are "socially excluded". Together with libraries they are often the only cultural institutions in the Polish suburbs. Their activities are undertaken in co-operation with and financed by local governments, mostly the municipalities and communes.
The extent to which cultural houses and community cultural clubs are financed by the government and local administrations is presented in chapter 7.1.3.
Graph 4: Number of cultural houses and centres and community culture clubs, 1999-2007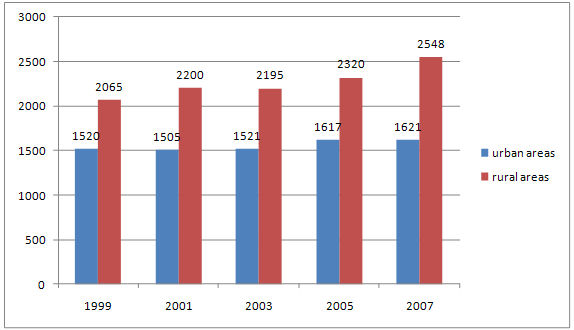 Source: Central Statistics Office, Culture in 2008.
Graph 5: Percentage of cultural houses, cultural centres and community culture clubs in urban and rural areas, 2009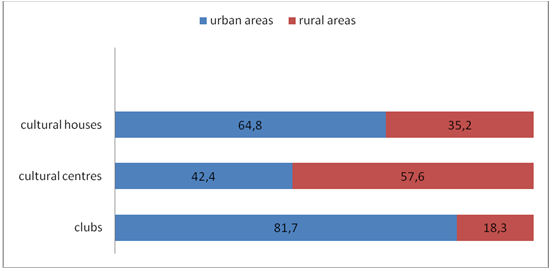 Source: Central Statistics Office information note: Cultural institutions in Poland in 2009.
In 2009, 4027 cultural houses, cultural centres and clubs were registered, 142 fewer than in 2007. Over a half are based in rural areas. Altogether, they organised 237 900 events for over 34 million participants (In 2007, there were 214 700 events for over 33.6 million participants). In this number, the bigger share was film screenings (22.3 %). There were less amateur music band performances (18 %) or seminars and meetings (14.7 %). The most popular were performances of professional artists which had over 10 million viewers. Hobby and artistic workshops were organised in 5 200 specialist studios, with the most popular being artistic (28%) and music (25.8%). There were 18 300 amateur artistic groups which involved 287 300 participants, of whom 156 000 were under the age of 15.
Table 15: Activity of cultural houses, clubs and community centres, 2003-2012
In general
Of which in rural areas
2003
2005
2007
2009
2012
2003
2005
2007
2009
No. of institutions
3 716
3 937
4 169
4 027
3 900
2 195
2 320
2 548
2 375
No. of specialist studios
4 203
4 692
4 719
5 200
6 400
1 212
1 364
1 424
1 732
No. of events (in thousand)
208.4
208.9
214.7
237.9
195.1
65.5
58.7
57.6
63
Event participants (million, per yr)
30.2
32.3
33.6
34.5
31.5
6.9
7.1
7.0
7.4
No. of workshops organised
5 668
5 696
5 409
7 142
–
1 142
1 114
1 380
2 032
Workshop participants (per year)
94 200
91 500
96 300
115 300
–
18 400
20 500
24 000
29 000
of which under the age of 15
54 900
47 000
51 200
54 100
–
11 800
12 100
14 300
17 000
No. of amateur art instructors
7 221
7 458
7 458
–
–
1 831
1 908
2 099
–
Source: Central Statistical Office, Culture in 2008, information note Cultural Institutions in Poland in 2009 and Culture in 2012 (GUS).
The activity of cultural houses and centres is at present a hot topic. Their low efficiency and insufficient level of adaptation to contemporary requirements is acknowledged. Several research reports with specific recommendations were published by NGOs.
An important programme has been launched by the National Centre for Culture. The Culture House + (Dom kultury +) aims at creating equal access to culture for the inhabitants of rural areas and improvement of participation in culture. The concept of the programme is to initiate the process of transformation of the existing culture houses into modern local culture centres. The programme consists of 3 priorities: Training, Development and Infrastructure. An important part of the programme is creating the Support Network – an interactive platform of cooperation and exchange for all culture houses. It aims at having development strategies created on the basis of socio-economic-cultural diagnosis of the given municipality or commune; actively animating the cultural life of local communities; creating possibilities for basic but universal cultural education, etc.