In 2018, Lithuania's GDP at current prices was 45 264 400 000 EUR, GDP per capita at current prices was 16 157 EUR. In 2017, public expenditure on culture* at all levels of government was 449 million EUR. The central government's share of expenditure was 243.2 million EUR, and the share of local governments was 205.8 million EUR. Public expenditure on culture in percentage of the total public expenditure was 3.2 per cent, and in percentage of GDP was 1.1 per cent. Public expenditure on culture per capita was 158 EUR.
Figure 1. General government expenditure in Lithuania in 2017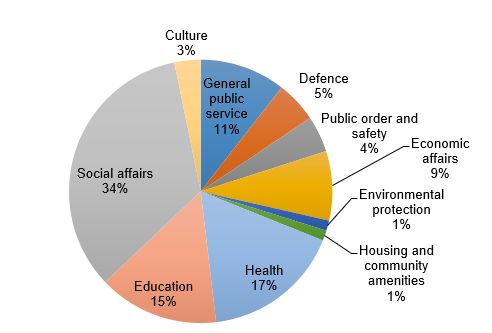 Source: Lithuanian Department of Statistics
*Public expenditure on culture (ESA 2010) comprises data of the indicator CG080 "recreation, culture and religion" as it is presented in database of Lithuanian Department of Statistics and Eurostat according to the COFOG 1999.
Over the last five years, the total public expenditure on culture has been gradually increasing. Consequently, per capita cultural expenditure has also increased, both as a result of increasing appropriations for culture and population decline. The share in GDP of expenditure for culture has not changed substantially over the last five years and it is about 1 per cent of GDP.
Table 38: GDP and public expenditure on culture in 2013–2018
| | | | | | | |
| --- | --- | --- | --- | --- | --- | --- |
| | 2013 | 2014 | 2015 | 2016 | 2017 | 2018 |
| GDP at current prices, in millions EUR | 35 002 | 36 555 | 37 336 | 38 855 | 42 280 | 45 285 |
| GDP per capita at current prices, EUR | 11 828 | 12 462 | 12 884 | 13 486 | 14 796 | 16 157 |
| Public expenditure on culture (all levels), in millions EUR | 286.8 | 327.5 | 351.7 | 397.4 | 449.0 | – |
| Public expenditure on culture (all levels) in percentage of the total public expenditure in that year | 2.3 | 2.6 | 2.7 | 3.0 | 3.2 | – |
| Public expenditure on culture per capita, in EUR | 96 | 112 | 121 | 139 | 158 | – |
| Public expenditure on culture in percentage of the GDP | 0.8 | 0.9 | 0.9 | 1.0 | 1.1 | – |