Latvia's economy experienced a GDP growth of more than 10% per year during 2006–2007, but entered a severe recession in 2008 as a result of an unsustainable current account deficit and large debt exposure. Triggered by the collapse of the second largest bank, GDP plunged by almost 18% in 2009 and the European Union, the International Monetary Fund, and other international donors provided substantial financial assistance to Latvia as part of an agreement to defend the currency's peg to the Euro in exchange for the government's commitment to stringent austerity measures. During the crisis, GDP decreased by a quarter, the external debt almost doubled, the number of employed people decreased by 16% and the real wages of employed people decreased by about 12%. The IMF / EU programme successfully concluded in December 2011. As indicated in the report of the Ministry of Economics on the development of the national economics of Latvia in 2015, since the end of 2010 the economic downturn in Latvia has been stopped and the growth resumed.
In 2018, GDP at current prices increased to EUR 29.5 million, compared to constant prices of EUR 23.9 million in 2010. The growth rate of the economy amounted to 4.8% in comparison to the previous year. Owing to economic growth, as compared to the previous lowest point recorded in 2010, in 2017 there was a significant increase in GDP per capita – by 44.8% (at constant prices).
The Euro was introduced in Latvia on 1 January 2014.
In 2017, general government expenditure for recreation, culture and religion was 4.4%.
Figure 1: General government expenditure structure, 2017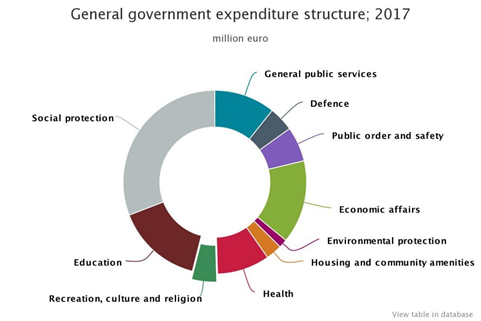 Source: Central Statistical Bureau of Latvia
In 2009, there was a dramatic drop in public financing for culture. It was followed by an even deeper crisis in 2010 when the budget of the Ministry of Culture was reduced by 32% if compared to 2008 (expenditure of general government for recreation, culture and religion – by 34%). The majority of cultural operators were concerned with the critical reduction of the budget for the State Culture Capital Foundation – the grant-giving body to secure the diversity of cultural activities all over Latvia. In 2010, its budget was reduced to 3 million euro which was 72% less than in 2008.
In 2011, the budget of the Ministry of Culture was increased due to the additional funding for the construction of the National Library of Latvia. A significant construction project – the building of the Latvian National Library was started in 2008 and finished in 2014. Over the last three years (2016-2018), the budget of the Ministry of Culture has increased significantly.
Figure 2: Expenditure of the Ministry of Culture, including earmarked subsidies, thousands euro, 2005-2018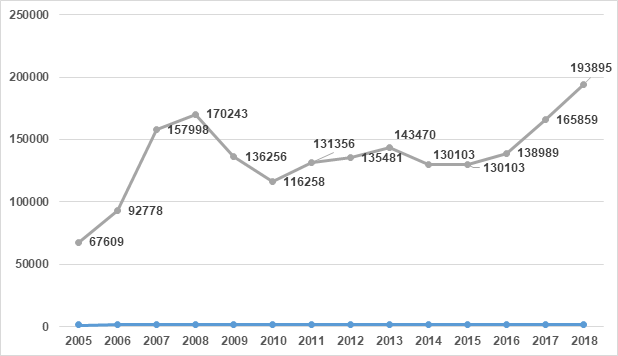 Source: Annual reports of the Ministry of Culture