Amateur arts and folk culture
Amateur activities in the creative and cultural field have been surveyed by Istat since 2000 by means of special "Leisure time surveys" carried out periodically (about every six years) in the framework of the Multipurpose sample survey. The last available data refers to 2006: the subsequent survey took place in 2015, with related data not available yet.
In 2006, 28 million persons – 50.8% of the interviewed sample of people aged over 6 years – have been practising amateur activities in one or more of the following ten fields: 1) photography, 2) dancing, 3) creative use of the computer, 4) drawing, painting and other kinds of visual arts activity, 5) video and film making, 6) writing poems, diaries, novels, 7) singing, 8) playing a musical instrument, 9) composing music, 10) acting.
The participation share for the various activities is shown in the bar chart below.
Figure 5: People over 6 years old by amateur arts practised (every hundred persons), 2006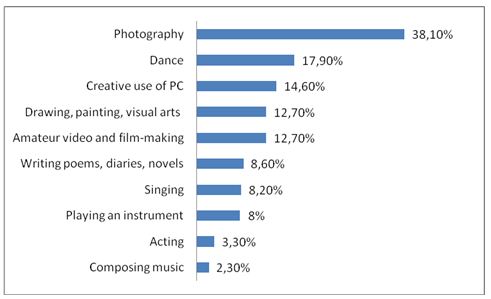 Source: Elaborations by Associazione per l' Economia della Cultura on ISTAT, Spettacoli, musica e altre attività del tempo libero. Indagine multiscopo sulle famiglie "I cittadini e il tempo libero" – Anno 2006.
Compared with the survey carried out in 2000, the rate of participants in the various activities is nearly the same, with the only exceptions of photography – by far the most dynamic type of activity – as well as of video / film making and the creative use of computers, where the increase has been substantial. This may be explained by the continuous progress of the digital revolution, and therefore by the much easier and cheaper access throughout the years to these types of activity.
Coming to the socio-demographic variables, as far as gender is concerned the rate is higher for men than for women (altogether 54.4% against 47.4%), mainly due to the sudden decline of female participation over 35 years of age, which may be ascribed to growing family engagements. By age, the highest peak of participation is reached by young people less than 25 years, by educational level, among students and people with higher education degrees. Finally, from a geographical point of view, the gap in participation rates between Northern and Southern Italy is very significant (55.9% against 43.8%), similar to all other cultural indicators.
There is no active encouragement or any incentive by our national cultural administration for citizens to be involved in amateur artistic activities; on the other hand, there are many public and private schools training people in the different types of activities. It should be added that for most people (82%) participation in amateur artistic activities is free.
Cultural houses and community cultural clubs
Information on cultural houses is not available.