Cultural minorities have become a very hot issue in Italy in relatively recent times. It is necessary, however, to distinguish between autochthonous minorities, established in Italy centuries ago, and eterochthonous minorities: i.e., the constantly growing number of migrants from Eastern Europe, Africa, Asia and Latin America.
On the one hand, the rights of the autochthonous, officially recognised cultural minorities (Germans and Ladins in the province of Bolzano, Slovenians and Croatiansin Friuli Venezia Giulia, Greeks and Albanians in Southern Italy and Sicily, Catalans in Sardinia) have been well safeguarded through national and regional legislation since the post-war period (most notably by Law 482/1999), and guaranteed by the 1947 Constitution, Article 6 (see chapter 2.5.4). They all enjoy citizen status and the related civic and cultural rights, with a particular focus on language matters. The only exception to this rule is represented by the Roma community, still significantly segregated (around 40 000 live in "camps"), although 90 000 of the 180 000 Roma and Sinti reckoned to be living in Italy enjoy citizen status, and only 3% of them are "nomads" (First National Report on the condition of Roma and Sinti people in Italy 2014, by"Associazione 21 luglio").
As for the cultural integration of migrant communities, Italy started to deal with the issue of developing a sound policy framework for immigration and integration only recently by comparison with other EU countries. In fact, immigration from the less developed areas of the world is a relatively new phenomenon in our country. It gradually started in the 1970s to gain momentum in the following decades, with the number of regular foreign residents virtually doubling every 10 years and knowing a further increase after 2000, but slowing down for the first time around 2009-2010 and in the subsequent years due to the economic crisis: according to Fondazione ISMU, the flow of "economic migrants" decreased by 84% since 2010. On the other hand, the increasing length of stay (in spite of the unfavourable economic conditions) and the number of migrants being awarded citizenship status (just by way of example, 231 000 people with a migrant background became Italian citizens, against 213 000 arrived by sea, over the same period 2013-2014) point to a gradual shift "from workers to population" (Fondazione ISMU, 2015). Needless to say, this poses new challenges to cultural policy makers.
According to the latest data, foreign residents in Italy with a regular permit amounted to 5 415 000 (including migrants not yet enrolled in the civil registry) at the beginning of 2015, accounting for around 9.5% of the Usually Resident Italian population; if we then consider the estimated number of illegal immigrants, the actual amount of the migrant population in Italy could be as high as 5 819 000 (Fondazione ISMU, 2015).
Figure 1: Foreign residents with a regular residence permit, years 1970, 1980, 1990, 2000, 2005, 2009 and 2015*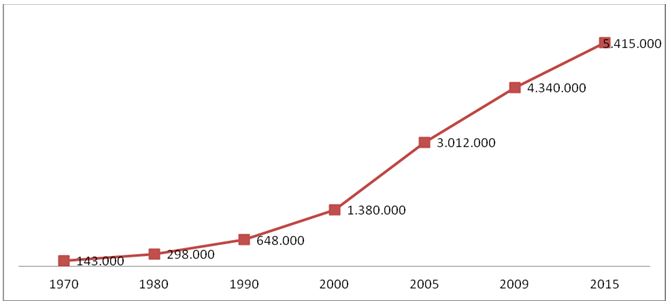 Source: Fondazione ISMU elaboration on data by ISTAT 2015.
* 1 January 2015.
This sharp increase over the years is mostly due to our country's rapidly ageing population and the consequent demand for immigrant labour force, as well as to Italy's geographical position at the crossroads between the African and the Asian continent, and at the doorstep of Eastern Europe. In fact, immigration from the latter has grown exponentially, so much so that,at the beginning of2015, Romanians and Albanians alone accounted for 30% of the migrant population as a whole. However, it is worth noting that while, for a few years, the spotlight was on the staggering increase of migrants from Eastern Europe, more recently it moved on immigration flows from Asia (see also Table 1): Eurostat data, in fact, show that Italy was the first European country of immigration for Asian people at the end of 2013 (1 070 784 residence permits against 936 361 in Great Britain).
Table 1 ranks in absolute and percentage terms the eighth most represented nationalities of immigrants with a regular residence permit at the beginning of 2015.
Table 1: Foreign residents with a regular residence permit: most represented nationalities, 2015
| Country of origin | Absolute numbers | % var. 2015/2014 |
| --- | --- | --- |
| Romania | 1 131 839 | + 4.6 |
| Albania | 490 483 | – 1.1 |
| Morocco | 449 058 | – 1.3 |
| China | 265 820 | + 3.5 |
| Ukraine | 226 060 | + 3.2 |
| Philippines | 168 238 | + 3.4 |
| India | 147 815 | + 3.7 |
| Moldova | 147 388 | – 1.4 |
| Bangladesh | 115 301 | + 3.7 |
| Peru | 109 668 | – 0.2 |
| Total 10 countries | … | |
Sources: ISTAT 2014 and 2015.
* 1st January 2015.
The most recent evolution in the socio-demographic makeup of Italy's population is particularly evident in schools: according to Fondazione ISMU (2015), foreign students now account for around 9%of the overall school population.
Table 2: Foreign students in Italian schools: 2000-2014
| School year | Numbers | % of the overall school population |
| --- | --- | --- |
| 2000-2001 | 147 406 | 1.8 |
| 2001-2002 | 181 767 | 2.3 |
| 2002-2003 | 232 766 | 3.0 |
| 2003-2004 | 282 683 | 3.5 |
| 2004-2005 | 361 576 | 4.2 |
| 2005-2006 | 424 683 | 4.8 |
| 2006-2007 | 501 494 | 5.6 |
| 2007-2008 | 574 133 | 6.4 |
| 2008-2009 | 629 360 | 7.0 |
| 2009-2010 | 673 592 | 7.5 |
| 2010-2011 | 711 046 | 7.9 |
| 2011-2012 | 755 939 | 8.4 |
| 2012-2013 | 786 630 | 8.8 |
| 2013-2014 | 802 844 | 9.0 |
Source: Fondazione ISMU elaboration on data by the Ministry of Education, 2015.
In 2014, foreign workers employed in Italy were 2 294 000 (1 238 000 men and 1 056 000 women), accounting for more than one-tenth of the total number of employed persons (10.3%) and 8.8% of GDP (Caritas Migrantes 2015, http://www.dossierimmigrazione.it/docnews/file/Scheda%20Dossier%202015%20in%20inglese.pdf ), which means that the immigrant workforce continues to play a useful role in support of the Italian economic and productive system. According to a report issued in March 2016 by the Ministry for Economic Affairs and Finance, the 525 000 businesses run by immigrants in 2014 accounted for 8.7% of the total number of registered businesses in Italy, and for 10.1% of total businesses in the Centre-North of our country. The same report argues that over 600 000 Italians receive their retirement benefits every year thanks to the insurance contributions paid by migrant workers.
The impact of this constantly growing migratory wave on the Italian society cannot be fully understood without taking into account the huge diaspora experienced by our own country between the late 19th century and the 1960s. The abrupt shift from being a country of emigration (although data by Caritas Migrantes point to a significant increase in Italians leaving their country to work abroad: over 94 000 in 2013 – of whom 17.5% surprisingly coming from Lombardy, one of the most developed regions – against 78 900 in 2012, 50 000 in 2011 and 40 000 in 2010) to becoming a country of immigration took Italy by surprise: unlike post-colonial countries such as Great Britain, France and the Netherlands, our nation had first to deal with emergency issues such as welcoming and assisting the growing wave of newcomers, and establishing a legal framework to regulate this new phenomenon. In fact, legislation dealing with immigration adopted since the 1990s may be described as a work in progress, constantly lurching from integration to expulsion, and mainly subject to the shifting political viewpoints of the state and local governments.
Law 39/1990 was the first piece of legislation to deal with the issue of integrating the newcomers. Subsequently, Leg. Decree 286/1998, adopted by the centre-left government, put immigration on a more legal footing, by also providing entitlements to basic social services (in particular the right to education, social security, and national healthcare services). Law 189/2002 – adopted by Berlusconi's government during a time when the influx of illegal migrants grew exponentially – on the other hand, tightened border controls and introduced a highly restrictive immigration regime, as well as easier expulsion procedures. With the centre-left coalition shortly back in power (2006-2008), a shift in policy occurred once again,the integration of "new minorities" ranking high among political priorities. However, a draft law endorsed to facilitate access to citizenship was dropped when Berlusconi's right-wing coalition once again won the election in 2008, partly by promising to crack down on crime and immigration. Tough new measures to fight illegal immigration and crime were introduced through Law 94/2009, which made illegal immigration a crime, provided for higher taxes (e.g. to obtain the residence permit), and made access to basic social services for legal migrants more difficult.
The government of non-politicians led by Mario Monti (2011-2013) showed a different attitude towards immigration and integration issues, so much so that a new Ministry for International Cooperation and Integration was created (although the Ministry of the Interior still remains the key actor in this domain, see chapter 2.5.1). In March 2012, an "integration agreement" originally provided for by Leg. Decree 286/1998 was introduced to promote a mutual engagement between the state and newly-arrived adult immigrants (from the age of 16 onwards), through language literacy, the knowledge of key civic principles and respect of the "Charter of Values, Rights and Integration" (2007).
The appointment of Congo-born Italian citizen Cecile Kyenge as Minister for Integration in the coalition government led by Enrico Letta (2013-2014) prompted a much-needed discussion on race. In fact, as an investigative report by the daily newspaper La Repubblica highlights ("Che razza di Stato", May 2014), immigrants are affected by several forms of "institutional discrimination", from the time required to obtain citizenship (4 years on average), to the new legislation on public employment, still excluding regular migrants with short residence permits; from the offence of illegal immigration, to the loss of the right to the settlement of tax and national insurance payments made by an immigrant going back to his / her country of origin, in the absence of reciprocity agreements with the Italian state. As far as the cultural sector is concerned, finally, the children of immigrants regularly going to school but without Italian citizenship are denied free access (as envisaged for any other student) to several museums and cultural institutions.
Under the new coalition government led by Matteo Renzi, immigration and Mediterranean policy have been included among Italy's priorities. Meanwhile, the immigrant traffic across the Mediterranean has soared. In 2014 Italy was the main landing place for immigrants coming to Europe by sea, with 170 000 people arriving from North Africa. In 2015, migratory flows changed once again (with 83% of arrivals concentrating in Greece), due to the humanitarian crisis in Syria and the increasing risks connected with the Lybia-Italy route. In this context, Italy is increasingly becoming a country "of transit" towards Northern Europe: in 2014, only 60 000 of the 170 000 arrived by sea were accommodated (Fondazione ISMU, 2015). This has done little, however, "to deter the anti-immigrant rhetoric of the country's rising far right. The Northern League made gains in local elections after campaigning against the migrant invasion" (The Guardian, June 2015).
In spite of the growing xenophobic tone in political debate, a new law on citizenship was approved by the Chamber of Deputies in February 2016, and is now awaiting ratification by the Senate. It would introduce a "tempered ius soli", i.e. the right for children born in Italy to immediately become citizens (to date, only eighteen-year olds can apply for citizenship) on condition that at least one of their parents has a residence permit.
In this general framework of alternate moods towards immigration, it is not surprising that migrant communities' fundamental right to culture and freedom of expression, enshrined in the Constitution, has not yet been recognised and explicitly promoted – let alone regulated through specific legislation – by the state administration. On the other hand, this gap has been partly filled by recent measures taken at the regional and local level. In the past decade or so, a number of regional laws have been passed in implementation of Leg. Decree 286/1998 (see above) with the specific aim of promoting the social integration of migrant residents. Many of them, (Liguria's Regional Law 7/2007, Lazio's Regional Law 10/2008, Marche's Regional Law 13/2009, Tuscany's Regional Law 29/2009, Calabria's Regional Law 18/2009 and Puglia's Regional Law 32/2009), explicitly mention "intercultural education and communication" and the "safeguard of cultural identities" as a means for integration; some (most notably Tuscany's) also refer to "the use of the media".
At the local level, many cities in the North and Centre of Italy have appointed representative bodies to promote the civic integration of their growing immigrant communities. More recently, their example was followed by the City of Palermo, which established its Consulta delle Culture (Council of Cultures) in 2013; along with the areas of concern typical of these representative bodies (education, health, social services, employment etc.), the Council also deals with "assisting migrant associations in the design and implementation of cultural, social, economic projects" and with "promoting / supporting initiatives aimed at fostering respect and knowledge of the cultural, linguistic and historical background of immigrants, while helping the latter to familiarise, in turn, with the culture, language and history of the local population". The local administration also drafted the "Charter of Palermo – From migration as suffering to mobility as an inalienable human right" (March 2015, https://www.iom.int/sites/default/files/our_work/ICP/IDM/2015_CMC/Session-IIIb/Orlando/PDF-CARTA-DI-PALERMO-Statement.pdf), affirming, among other things, the "right to intercultural exchange and cross-fertilisation". Finally, following the International Conference "Culture, cultural diversity and sustainable development: opportunities and challenges for the Mediterranean" (Palermo, November 2015) – promoted by MiBACT, MAE, the City of Palermo and the Associazione per l'Economia della Cultura – a final declaration was issued, where the institutions involved commit themselves, among other things, to "raising the awareness of the importance of the tangible and intangible cultural heritage, and of its safeguarding and enhancement, as well as of the promotion of artistic creation and of the cultural and creative industries, to foster mutual understanding, inter-Mediterranean cooperation and the integration of migrant communities".
In general, however – as it often happens not only in Italy, but elsewhere in Europe – cultural matters concerning immigrant communities still tend to be automatically assigned to social policy and do not seem to concern cultural administrators / institutions and the arts sector as a whole, with some noteworthy exceptions at local level and an increased interest shown by MiBACT in the past 4-5 years (see chapter 2.5.1).