Amateur arts and folk culture
One of the main characteristics of cultural life in Croatia is a diversified landscape of amateur cultural activities which usually take place in halls and in schools; considered to be the most evenly distributed form of cultural infrastructure in the country. Although the Ministry of Culture considers that local authorities should take responsibility for amateur activities, it nevertheless provides considerable funding. The reasons for the Ministry's support are:
there are hardly any other cultural activities in small towns / villages;
the difficult financial situation in many local communities;
protection of valuable forms of traditional heritage; and
stimulation of awareness about the importance of culture for the identity and revitalisation of a town or region.
The Croatian Culture Assembly (Hrvatski sabor kulture) has its roots in the hundred year old tradition of amateur cultural and artistic activities and its mission is oriented to the support and development of cultural and artistic activities. It is a member of CISM, AITA, AMATEO, etc.
According to data from the Croatian Bureau of Statistics (CBS, 2011) in the 2009/2010 season, there were 965 associations of cultural and artistic amateurism operating in the Republic of Croatia, which shows an increase of 23.1% compared to the 2006/2007 season (the survey is triennial). Thus, no new data is available. The total number of members increased by 10.7% compared to the 2006/2007 season. The share of female members in the associations of cultural and artistic amateurism increased by 8.4%. The share of active members in the total number was 75.4%; assistant members made up 22.4% and professional personnel – 2.2%. Out of the total number of performances, 46.3% of took place in the associations' headquarters, 47.8% on tours in the Republic of Croatia and 5.9% on tours abroad. The data also show that the representation of amateur cultural and artistic performances in radio and TV programmes increased by 60.5%, compared to the 2006/2007 season.
Table 6 shows the number of amateur cultural and artistic associations in 2009/2010, according to type. Data for the season 2010/2011 and 2011/2012 is not available.
Table 6: Amateur cultural and artistic associations, season 2009/2010
| Type of association | Section -group | Active members (total)* | Active members (male) | Active members (female) |
| --- | --- | --- | --- | --- |
| Folklore groups | 836 | 25 209 | 7 917 | 17 292 |
| Drama groups | 201 | 3 272 | 1 349 | 1 923 |
| Painting and drawing groups | 67 | 1 356 | 527 | 829 |
| Literary groups | 53 | 681 | 249 | 432 |
| Dance groups | 139 | 3 275 | 451 | 2 824 |
| Orchestras | 539 | 8 298 | 6 272 | 2 026 |
| Vocal and choir groups | 486 | 10 001 | 3 190 | 6 811 |
| Majorette groups | 63 | 1 440 | 11 | 1 429 |
| Ethno groups | 83 | 1 564 | 663 | 901 |
| Other | 153 | 2 023 | 1 045 | 978 |
| TOTAL | 2 620 | 57 119 | 21 674 | 35 445 |
Source: Republic of Croatia – Central Bureau of Statistics, Priopćenje, 28 February 2011, Year XLVIII, Number 8.3.5. (Available at: http://www.dzs.hr).
* Number of active members from this table is larger than the real number of active members as the same person can be a member of several sections-groups.
Cultural and artistic amateurism is very much alive, which is also shown by the data in Figure 4. According to the Croatian Bureau of Statistics, the number of active members of associations of cultural and artistic amateurism increased significantly – from 43 115 in season 2006/2007, to 57 119 members in season 2009/2010 (Statistical Yearbook 2012, p.509). No new data is available.
Figure 4: Active and supporting members of associations of cultural and artistic amateurism, by gender, 2009/2010 season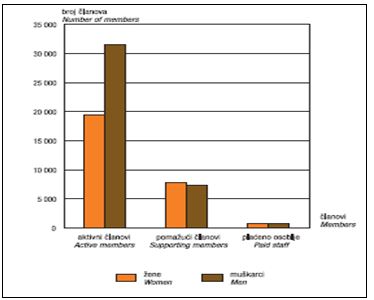 The Law on the Protection and Preservation of Cultural Assets (Article 9), under immaterial cultural heritage, stipulates the special status of folk activities. The Strategy of Protection, Conservation and Sustainable Economic Utilisation of Cultural Heritage of Republic of Croatia (2011-2015) envisages actions in this field. The Strategy also provides the analysis of the Ministry's support to NGOs in culture in 2007 which outlines that the support to folk and activities in traditional culture amounted to 5% of the total support to NGOs.
Two examples of long tradition of activities in folk and traditional culture have to be mentioned: 1) National Folk Dance Ensemble of Croatia "Lado" (http://www.lado.hr/en/) was founded in 1949 in Zagreb as a professional national ensemble, with the aim of researching, artistically interpreting and presenting on stage the rich tradition of Croatian music and dance; and, 2) International Folklore Festival that in 2016 celebrates 50 years of continuous activities.
Institute of Ethnology and Folklore Culture (http://www.ief.hr/) is a scientific institution that among its other activities regularly publishes research on folklore and traditional culture in Croatia.
Cultural houses and community cultural clubs
Cultural centres are mostly established by local authorities or run by NGOs on the local (city or municipal) level. There is a growing number of such centres (especially in small cities) involved in different aspects of cultural lives from traditional amateur arts activities to new media (see also chapter 2.4). A Network of the open community learning centres (Zajednica pučkih otvorenih učilišta / Association of Community Centres) consists of community cultural and educational centres offering educational programmes for children, youth or adults and cultural programmes. All of these centres are mostly funded by local authorities but there is no data available on the state level that would give some indication of their penetration, impact and overall budgets. In small towns these centres are very important as sometimes they are the only points of cultural activities.
In total, according to the Statistical Yearbook 2009, in 2005/2006 there were 153 institutions that belonged either to public open universities, homes of culture, cultural centres or to other types of organisations, and they are spread evenly around the country. In the season 2008/2009, this number increased to 217, as data from the Statistical Yearbook 2012 shows (CBS, 2012: 505), which is a substantial increase. No new data is available as the research on these types of organizations is periodical.