The Bologna process brought a number of changes to the higher education system in Croatia that had an impact on arts education. A number of new art schools and art academies have been established; however, no research data on the impact of the changes is available. The number of arts academies (music, drama and fine arts) remains steady in the last decade, amounting to 6 art academies in four different cities in Croatia. At the University of Zagreb – Academy of Dramatic Arts, Academy of Fine Arts, and Academy of Music; at the University of Osijek – Arts Academy and Academy of Dramatic Arts; Arts Academy at the University of Split, and Academy of Applied Arts at the University of Rijeka.
According to the latest available data by the Central Bureau of Statistics, Figure 1 shows the percentage of students who graduate from art academies in comparison to other institutions of higher education in the academic year 2016/2017.
Figure 1: Students who graduated from institutions of higher education in Croatia, by type of institution, academic year 2016/2017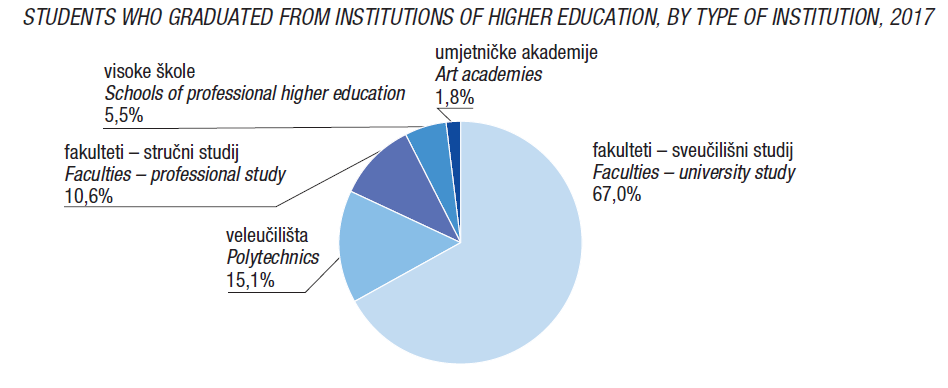 Source: Statistical Yearbook 2018, (Croatian Bureau of Statistics 2019a: 493).
In comparison to the academic year 2013/2014 (Croatian Bureau of Statistics 2015), there was an increase in the percentage of students enrolled in institutions of higher education in 2016/2017 – in 2013/2014 the percentage was 1.3%, while in 2016/2017 this percentage was 5.5%.
Training and education programmes focused on heritage, culture and creativity in general are to be found through different programmes developed at other faculties in universities around Croatia – e.g. programmes in history of arts, museology, archaeology, literature, library science, cultural studies at faculties of humanities and social sciences at universities in Dubrovnik, Osijek, Pula, Rijeka, Split, Zadar, Zagreb; design and architecture at the Faculty of Architecture in Zagreb, fashion and textile design at the Faculty of Textile and Technology in Zagreb etc. Arts education programmes are specialised for those students that are studying to become art teachers in high schools, but no specific arts or culture education has been developed more generally.