Trade in culture: consists of imports and exports of goods and services involving Canada's cultural industries as well as the arts and heritage and is manifested, inter alia, in touring and international exhibitions. Exports of Canadian cultural goods in 2006 totalled CAD 2.1 billion, down 12.7% from 2005. Although the Statistics Canada data collected on cultural services is roughly two years behind those pertaining to cultural goods, cultural service exports totalled CAD 3.049 billion in 2004, an increase of 40.8 % from 2003. Film and television production and distribution services (including revived foreign location shooting in Canada of feature films and TV series and copyright royalties received by Canadian exporters) represented Canada's largest cultural service export and was valued at more than CAD 1.6 billion in 2005-06. The film and video sector exported cultural goods valued at CAD 555 million in 2006, making it the second largest cultural goods exporter after the print media with CAD 787 million (see Table 3 below).
Table 3: Cultural Exports by Sector, 2004 and 2006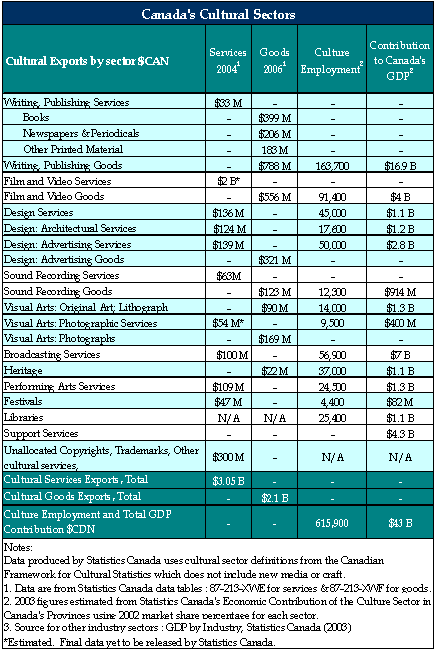 Taking cultural goods and services together for the latest common year of data (2004), Canada's cultural services trade deficit reached CAD 1,969 billion. There are a number of issues facing the country's trade in culture including: data collection gaps such as the non-inclusion of crafts and interactive digital media (or new media) in Statistics Canada's cultural statistical framework; the lack of integrated measurement of downloaded cultural content (e.g. television programming, video on demand, music, books) the absence of data on some royalties and rights such as copyright collection societies; and the level of reliance of Canada's cultural exporters on the United States market (89.9% of Canadian cultural goods exports in 2006 and 78% of Canada's cultural service exports in 2004).
Trade Routes is a programme that carries out the Department of Canadian Heritage's strategy to expand international markets for Canada's cultural sector. It supports the government's trade agenda to enhance prosperity and job growth in the knowledge-based sectors of the new economy. Through Trade Routes, the Department of Canadian Heritage ensures that Canada's arts and cultural entrepreneurs and organisations have access to Trade Team Canada – Cultural Goods and Services: a network of government trade programmes and services. The Trade Routes Contribution Programme helps cultural organisations succeed internationally through export preparedness and international market development. The Trade Routes Programme was renewed for a five-year period to 2010. Trade Routes Advisers are currently stationed in Canadian Missions abroad in Paris, London, New York, Los Angeles and Shanghai, as well as international trade regional offices across Canada. In August 2008, the Department of Canadian Heritage announced it will no longer provide financing to Trade Routes. The funding will stop at the end of the department's fiscal year, on 31 March 2009. In a release posted on Canadian Heritage's website, the government of Canada said it is "committed to a more disciplined approach to managing spending in order to deliver programs that are efficient and effective and that meet the priorities of Canada."
Cultural Tourism: The Department of Canadian Heritage participates in tourism promotion with federal partners such as the Canadian Tourism Commission and Industry Canada and with the provincial governments through the Federal / Provincial and Territorial Committee on Culture and Heritage. The aims of this involvement are to promote the appeal of cultural attractions such as Aboriginal tourism, language learning tourism, and inter-regional tourism within Canada especially in light of the earlier downturn in international tourism, post 9/11 (see chapter 1.3.3).
Tourism in Canada is a CAD 62.7 billion industry. According to the Tourism Industry Association of Canada, more than 200 000 small and medium-sized businesses make up the industry and employed 625 800 Canadians directly in 2005 and one million indirectly, or about four per cent of Canada's workforce. According to Industry Canada, tourism is Canada's largest provider of new jobs. Aboriginal tourism (all tourism businesses owned or operated by First Nations, Métis, and Inuit) generated CAD 4.9 billion and employed about 13 000 people full time in 2001. Canada's cultural attractions also show Canada to the world and promote understanding of Canadian people, heritage, and nature. Canada ranks among the world's top 12 destinations according to the UN World Tourism Organisation. More than 36 million travellers entered Canada in 2005 and many Canadians travel within the country. The Canadian Tourism Commission raises awareness of Canada as a four-season tourism destination. This Crown Corporation also monitors tourism trends and challenges.
Foreign Investment: Authority for the review and approval of foreign ownership and investment in the cultural industries under the Investment Canada Act (1985) was transferred from the Minister of Industry to the Minister of Canadian Heritage in 1999. The Cultural Sector Investment Review directorate is part of the Department's Cultural Affairs Sector. The Investment Canada Act (1985) applies through the application of Investment Canada Regulations to non-Canadians who invest in businesses engaged in the publication, distribution or sale of books, magazines, periodicals, newspapers or music in print or machine readable form (excluding printing and typesetting), the production, distribution, sale or exhibition of film or video products, the production, distribution, sale or exhibition of audio or video music recordings and the publication , distribution or sale of music in print or machine readable form. Investments involving the acquisition of control of Canadian cultural businesses or the establishment of new cultural businesses are subject to approval by the Minister of Canadian Heritage. Investments are assessed for net benefit to Canada, based on the factors set forth in Section 20 of the Investment Canada Act (1985), which include compatibility with Canada's cultural policies. As Applications for Review and Notifications are approved, they are published on a monthly basis. They contain only the information that may be disclosed under the Act (1985). The Act also provides remedies for non-compliance.