Over the ages, and because of the historical, economic and cultural specifics characteristic of Azerbaijan, the population has operated in conditions of tolerance and respect for the cultures of other people and national minorities. There are many different cultural minorities living in Azerbaijan, including Russian, Ukrainian, Kurdish, Laks, Lezginian, Slavyan, Tat, Tatar, Georgian, Ingiloy, Talish, Avar, Community of Akhiska Turks, Jews, Germans, and Greeks etc. Representatives of the three largest religions – Islam, Christian and Judaism – participate in all initiatives and events at the state level, on a permanent basis.
Chart 12: Ethnic composition of population * (based on population census of 2009)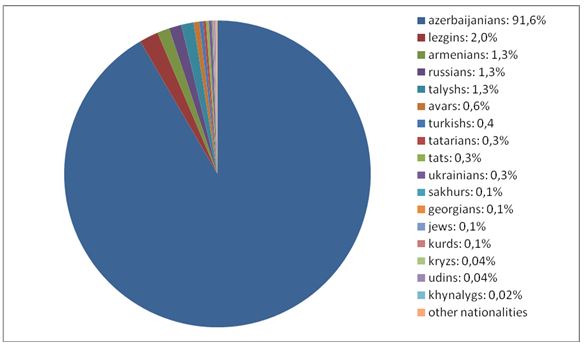 Supporting and safeguarding cultural diversity is reflected in the state policy of the Republic of Azerbaijan. National policies have their basis in the Constitution of Azerbaijan, which provides for equality of all citizens, irrespective of their ethnic, religious or racial background. All forms of discrimination and xenophobia, including ethnic, national and racial, are not acceptable. Ethnic minorities of Azerbaijan have equal cultural rights and the same access to cultural heritage of the country as the titular population of Azerbaijan.
Article 6 ("Providing rights and freedoms") of the Law on Culture states equal rights of national minorities in safeguarding and development of their culture and identity; Article 27 adds to the State monitoring of the sphere of culture also monitoring of situation with cultural diversity of national minorities; Article 30 declares that cultural examples of national minorities are the part of national cultural wealth of the Republic of Azerbaijan and are protecting by State. This guarantee is ensured also in other laws of the Republic of Azerbaijan referring to culture.
The Ministry of Culture and Tourism carries out various activities connected with the safeguarding and development of cultural values of national minorities and ethnic groups living in the country, which includes cooperation with cultural communities and centres of ethnic minorities; organisation of art performances of amateur collectives in regions where ethnic minorities are concentrated; organisation of exhibitions reflecting ethnography, art and traditions of the ethnic minorities; tour trips of the ethnic collectives in the Republic and abroad; encouraging creation and performance of art compositions, promoting customs and traditions of ethnic groups; and supplying amateur collectives with traditional clothes, musical instruments, etc.